Tornado NKN
Easy, Fast and Powerful service software for Nikon DSLR Cameras
Supported all 35 actual models
Basic functions
▪ Read and Write Camera Serial Number
▪ Read and Write Shutter Counter
▪ Read and Write Flash Fire Counter

Extended functions
▪ Enable and Disable Language Lock *

Extra functions
▪ Read whole MPU EEPROM
▪ Read whole MPU Flash ROM *

* Not all models are supported for now
---
Easy, Fast and Powerful.
The best service software.
95% operations can be done with one click. All operations are made without needless questions or actions, in a minimal time.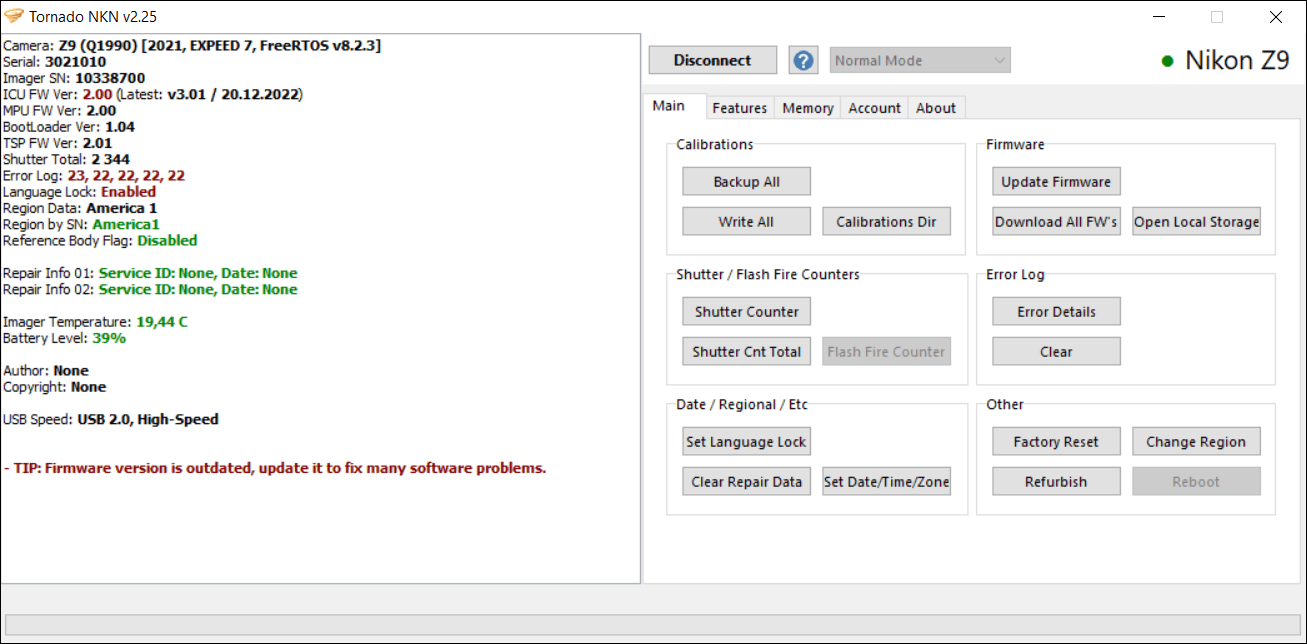 ---
Supported models:
Beginners line
D3000
D3100
D3200
D3300
D3400
D3500
D5000
D5100
D5200
D5300
D5500
D5600

Enthusiasts line
D300
D300S
D500
D600
D610

Professionals line
D700
D750
D800
D800E
D810
D810A
D850
---
System Requirements:
Works only online only; permanent and stable internet connection is required
Works on Windows Vista/7/8/8.1/10/11 (x86 and x64, all editions and service packs)
Works on Windows Server 2008/2012/2016/2019 (all editions and service packs)
Works on macOS with Parallels (and Windows installed on it)
Emulators are supported (VirtualBox, VMWare, Parallels, etc.)
Screen resolution 1024 x 600 or higher
On Windows Server, "Desktop Experience" component is required
Windows XP or lower is not supported due to lack of build-in support required API
---
Key agreements:
To improve the product quality we use telemetry
1 license can be used on 1 computer
No money refunds after license is being activated
---
Product in development notice:
At this moment the product is in active development, but we received many requests for purchase product on the current state.
We was decided to release it and continue working on it.

There are some limitations: unlocking the menu language and reading MPU FROM, E2P not work on all models.
---
---
Pricing
The right price for you, pay only when you really need it.
All prices include VAT where applicable.
We accept: Payment cards / PayPal / Apple Pay.
We accept payments in your currency.
This is not a permanent subscription, money will be charged once.
---
Our order process is conducted by our online reseller Paddle.com.
Paddle.com is the Merchant of Record for all our orders.
Paddle provides all customer service inquiries and handles returns.