Tornado Shutter Counter
Shutter, Mirror, Errors Counter Viewer for Canon and Nikon Cameras
Supported all of 70 actual models
Allows you
basic functions
- Read Shutter Counter
- Read Mirror Counter
- Read Errors Counter *
- Read Shutter Total Counter *
- Read Mirror Total Counter *
- Read Shutter Wear Percentage

Allows you
basic functions
- Read Camera Serial Number
- Read Sensor Serial Number *
- Read Mode: Norm/Fact/Service *
- Read Language Lock

Allows you
basic functions
- Read Canon Log *
- Set DateTime *
- Update Firmware *
- Read Flash Fire Counter **

* - Only Canon Cameras
** - Only Nikon Cameras

---
Read shutter and mirror counters.
Every owner should know this.
The most necessary information for the owner, buyer, seller. Now you will know the mileage of your camera.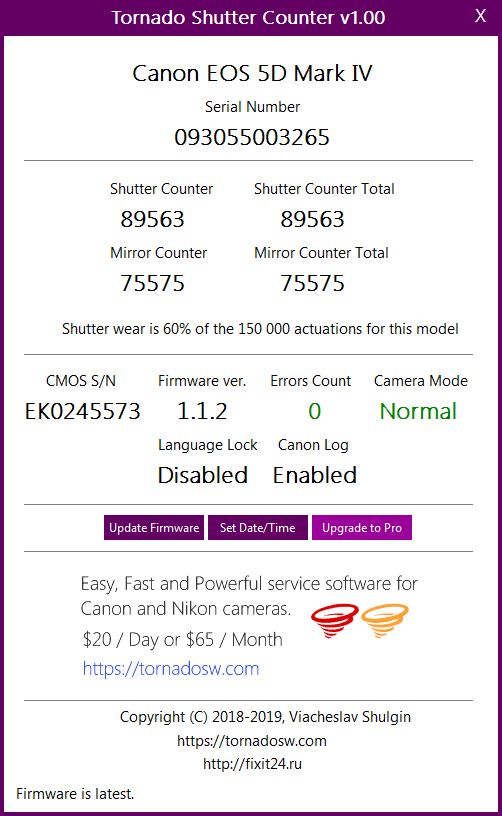 ---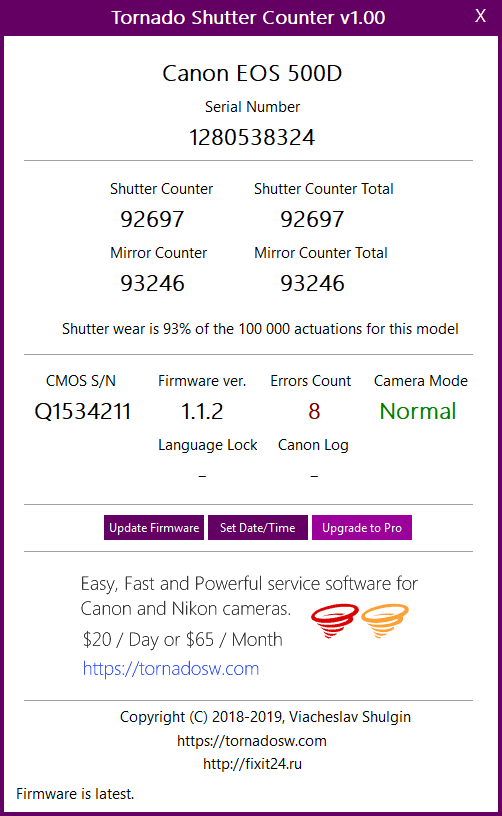 Free and simple diagnostics.
Check camera for errors.
Show camera errors count. Useful information when you plan to take the camera on a trip or buy used camera.
---
Firmware update.
Keep the camera updated.
No need to use card reader, search and download files to memory card, check which version is latest. Just one click for update.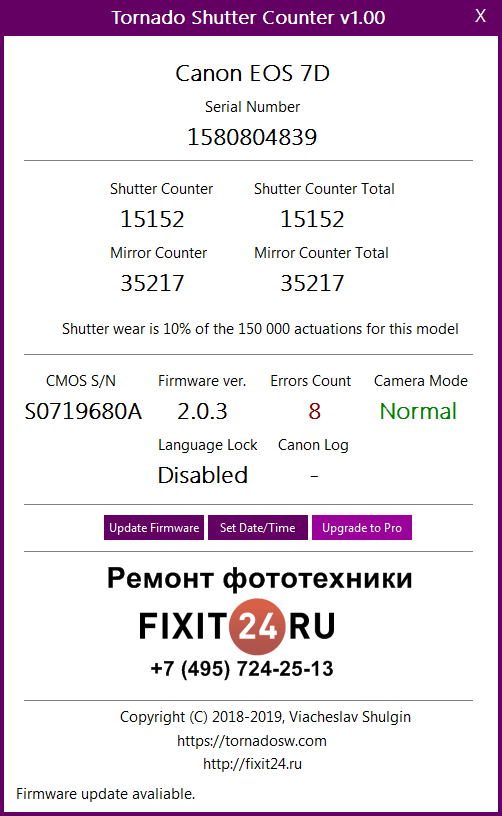 ---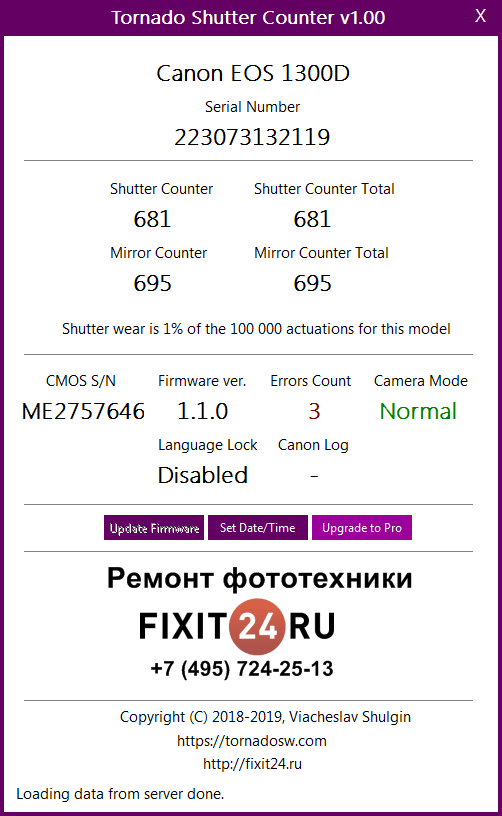 Setup date and time.
No need to do it manually.
Just one click. Date and time will be synchronized with your's PC
---
Stay always updated for free.
No need to check and install updates.
Each time, when you start software, latest version is automatically loaded from our server. We adding new models, functions, improvements, you just use it.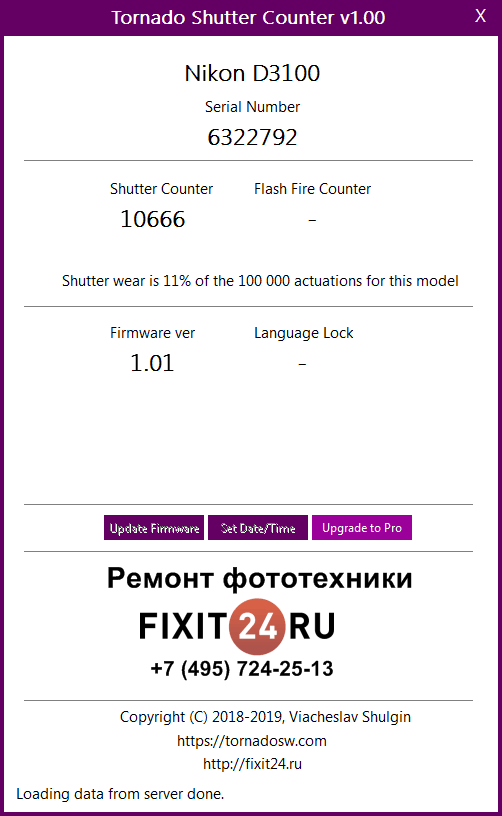 ---
Supported models Canon


Beginners line
EOS 100D / REBEL SL1 / Kiss X7
EOS 200D / REBEL SL2 / Kiss X9
EOS 500D / REBEL T1i / Kiss X3
EOS 550D / REBEL T2i / Kiss X4
EOS 600D / REBEL T3i / Kiss X5
EOS 650D / REBEL T4i / Kiss X6i
EOS 700D / REBEL T5i / Kiss X7i
EOS 750D / REBEL T6i / Kiss X8i
EOS 760D / REBEL T6s / 8000D
EOS 800D / REBEL T7i / Kiss X9i
EOS 1100D / REBEL T3 / Kiss X50
EOS 1200D / REBEL T5 / Kiss X70
EOS 1300D / REBEL T6 / Kiss X80
EOS 2000D / REBEL T7 / Kiss X90
EOS 4000D / REBEL T100 / 3000D
Enthusiasts line
EOS 50D
EOS 60D
EOS 60Da
EOS 70D
EOS 80D
Professionals line
EOS 5D Mark II
EOS 5D Mark III
EOS 5D Mark IV
EOS-1D Mark IV
EOS-1D C
EOS-1D X
EOS-1D X Mark II
---
Supported models Nikon


Beginners line
D3000
D3100
D3200
D3300
D3400
D3500
D5000
D5100
D5200
D5300
D5500
D5600
Enthusiasts line
D300
D300S
D500
D600
D610
Professionals line
D700
D750
D800
D800E
D810
D810A
D850
---
System Requirements:
Works online only, permanent, stable internet connection is required
Works on Windows Vista/7/8/8.1/10 (x86 and x64, all editions and service packs)
Works on Windows Server 2008/2012/2016/2019 (all editions and service packs)
Works on macOS with Parallels (and Windows installed on it)
Emulators are supported (VirtualBox, VMWare, Parallels, etc.)
Screen resolution 1024 x 600 or higher
On Windows Server, "Desktop Experience" component is required
Windows XP or lower not supported, due to lack of build-in support required API
---
Main agreements:
To improve the product quality we use telemetry
---
---